3 tips to get started in affiliate marketing
October 15, 2022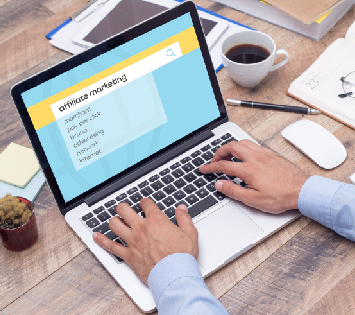 In our last blog, we talked about everything you need to know about affiliate marketing and what it's all about. This time around, we will focus on giving you 3 tips to get started.
With affiliate marketing, you can make money online even if you do not have a blog or website. After following a few simple steps, you can start working and earn your first commissions right away. Affiliate marketing is really one of the fastest and easiest ways to make money online and should be part of every internet entrepreneur's business portfolio.
The key to affiliate marketing remains relatively constant, regardless of your market or niche. Your main task will always be to generate sales for the product owner, which will allow you to earn commissions for every transaction you generated.
Like everything we undertake, affiliate marketing requires time and dedication. Although it's an easy way to make money, you need to develop strategies and tactics to stand out from the rest. Here are 3 tips to help you get started on this path.
Identify the right audience
Start on a social media platform that best fits your audience and content. It is easiest to start with the social platform you already have a presence on, so you can target followers you already know first. Are you targeting an older audience? Use Facebook. Are you planning to target a younger audience and want to focus on visually appealing or creative promotions? Use Instagram or even TikTok or Pinterest.
Start growing your following beyond family and friends on your preferred social media platform. Interact with others who have similar interests as you. Follow hashtags where appropriate or join groups to find out who these people are. Create content that adds value to your audience. You can get ideas by seeing what others are doing in this area. If you are authentic, people will naturally engage with you.
Focus on a niche market
If you want to be authentic and believe in the products you promote, use your certifications or passions and use them to your advantage when partnering with products. Look at the content you post and follow on your social networks and determine what topics are present there. Or take a unique life experience and apply it to products you would use.
One of the easiest ways to differentiate yourself from other affiliates is to look for complementary products. These are the products and brands that stand out. Of course, it's great to get excited about a well-known brand, but these affiliate programs are already crowded and do not offer well-paying commissions.
Get creative and promote your products for maximum revenue
The more authentically you promote your products, the better you'll sell to your audience. Unlike influencers, affiliates can choose how they post to promote their unique affiliate links. For example, you can make an ingredient comparison between a major brand and the smaller product you are promoting.
Promoting your product goes beyond social media, and as an affiliate, you have the ability to decide what other channels you want to use. You can capture emails through your social media accounts and send out email lists. You can also, with a little extra money, create ads to target people outside your social media and email circles who are also interested in your niche.
To be successful in affiliate marketing, you need to develop a strategy, be authentic, create your own personal brand, be transparent, continuously learn, analyze data and metrics, and be creative.
If you would like to become a Referredit agent, give us a call or fill out the form on our website. One of our sales representatives VP will discuss with you everything you need to know about our company and how you can start making money right away by referring clients to our many services.